Sustainability in Our Product Portfolio
As a manufacturer of flexible packaging, we focus on certain projects in product development stage to contribute
sustainable packaging design and use of flexible packaging in circular economy. Our target is optimization of packaging
design by continuous product innovation.
This strategy lays the foundations to a new plastics economy, where the design and production of plastics and plastic
products fully respect .
REDUCE - RECYCLING - REUSE targets with more sustainable products to be developed and promoted. In addition, using renewable sources while producing flexible packaging and also minimizing environmental impact of the products where possible is a major product innovation area for Super Film for sustainable future. Super Film production and distribution processes are continuously improved by projects and action plans in accordance with policies and strategies that are in line with our
sustainability targets.
Reuse
Pet Bottle Label Film Containing Post-Consumer Recycled (PCR) Raw Material
In order to reduce the environmental impact of PET bottle labels, we developed our PCR-containing transparent BOPET film as an alternative to BOPP labels. Our Petlain BT 1011 PRS coded film is produced with 50% recycled raw material. The recycled product in the raw material has been processed by chemical de-polymerization. 
Transparent BOPET label solutions are offered with both Petlain BT 1011 MSL code as standard and Petlain BT 1011 PRS code with PCR content, and both of our films provide 25% higher efficiency than the 38 micron transparent OPP label films, which are mostly used in this application. 
25% higher efficiency with 50% recycled raw material 
| CHARACTERISTICS | TEST METHOD | UNIT | PETLAIN  BT 1011 MSL & PETLAIN BT 1011 PRS 19u | SUSPLAIN 1011 S 40u |
| --- | --- | --- | --- | --- |
| Density | ASTM D 4321 | g/cm3 | 1,4 | 0,91 |
| Yield | ASTM D 4321 | g/cm3 | 37,6 | 27,5 |
| Unit Weight | ASTM D 4321 | g/cm3 | 26,6 | 36,4 |
Bopet Packaging and Lidding Applications Containing Recycled (PCR) Raw Material
We have completed our BOPET film studies containing post-consumer recycled raw material (PCR) to reduce the environmental impact of standard plastic films. BOPET films produced with PCR PET obtained through chemical reccycling have optical and mechanical properties similar to our standard BOPET films and can also be used in food applications. 
You can find related films here

Thickness Reduction (Reduce, Downgauging)
Reduction in Packaging Material BOPP & BOPET
In line with our sustainability targets, reducing the use of plastics, we are working on downgauging and light weight studies where we aim to provide similar technical and optical properties compared to standard grades. 
To date, we have achieved an efficiency increase of up to 35% in 15 different film grades in line with our goal of reducing thickness and weight. 
Up to 35% higher efficiency in BOPP and BOPET products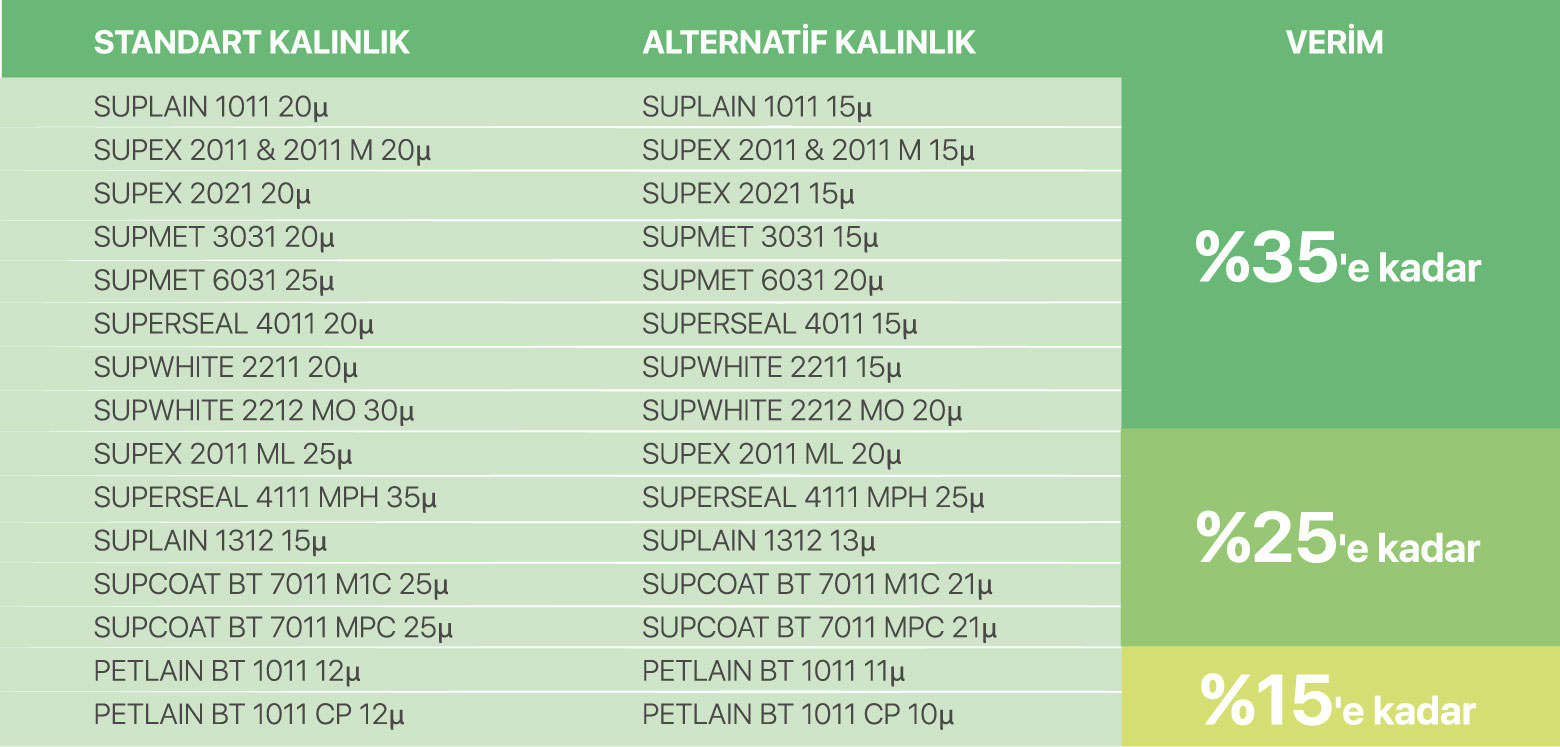 Recycle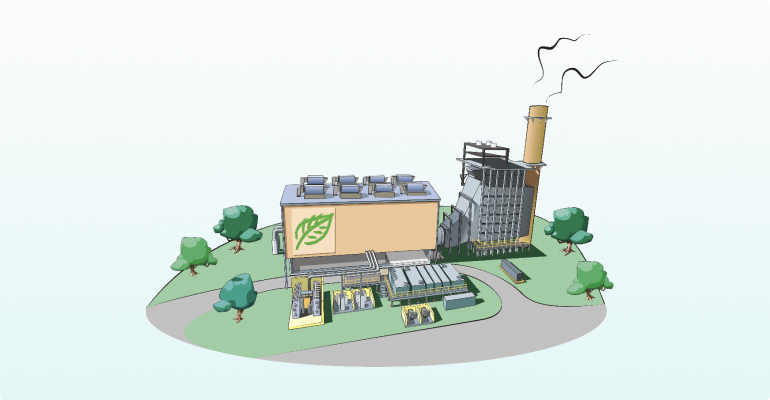 Alternative Mono Structures to Multiple Packaging Designs
In line with our sustainable product development objectives, we are offering full recyclable solutions. Different designs of mono structures are developed and launched as alternative to multiple material structures. 
 We aim to ensure the effective separation and further use of flexible packaging in circular economy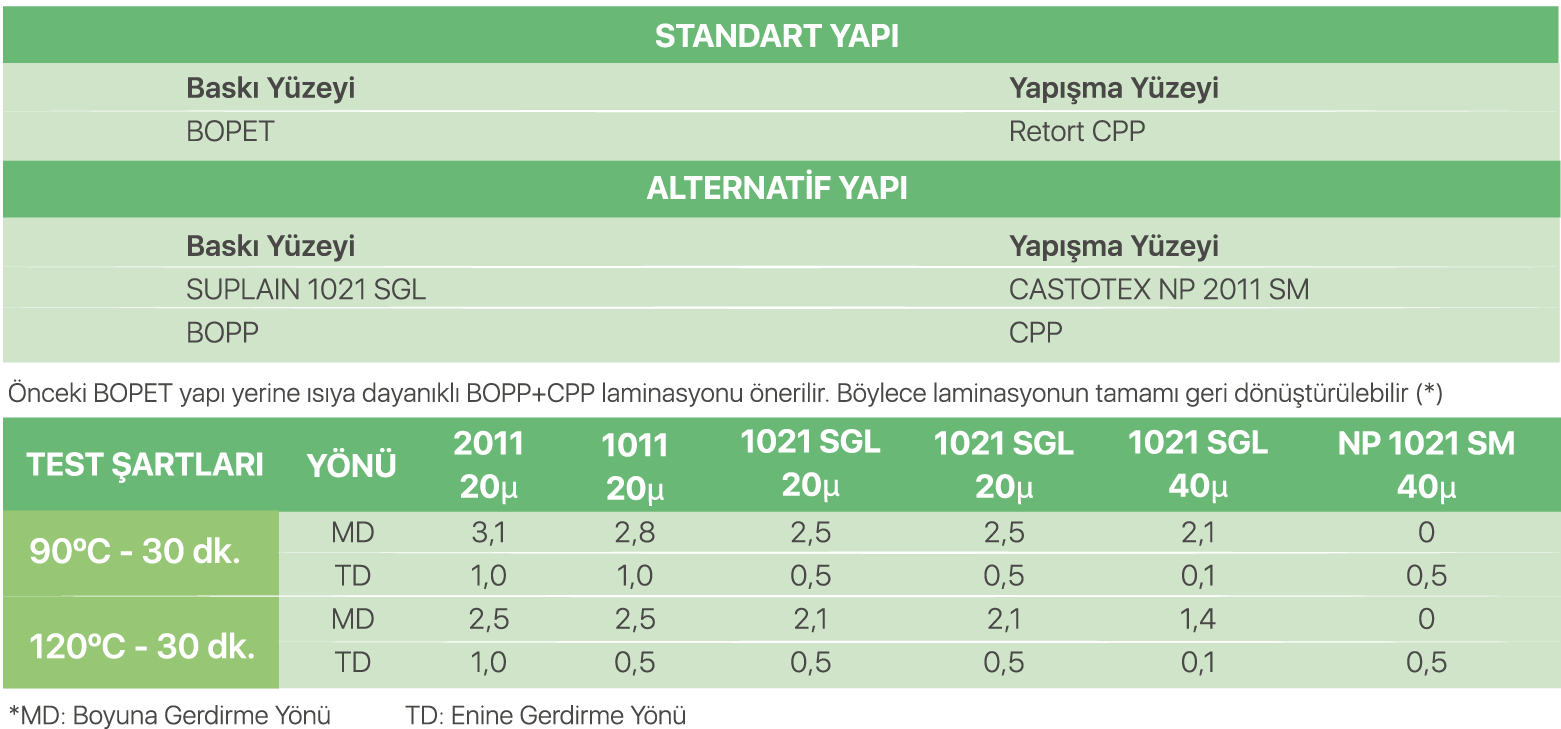 Metal-Free Structures
Metallised films and aluminium have very low oxygen and water vapour permeability; therefore, they are preferred as barrier layers in laminated structures. However, since complex material structures are not suitable for recycling, we developed as alternative to metallised grades, special coated high barrier films that do not contain any metals. 
Our BT 7011 MOC 12 micron grade, which has an OTR (oxygen permeability) level below 1cc m2 / day, does not contain any aluminium or metal. In addition, our new grade is much more resistant to flexing, breaking or scratching which damages the barrier property compared to alternative solutions and it also maintains the barrier properties during printing or lamination. 
BOPET - We offer mono PP or mono BOPET alternatives to PE/EVOH/PE or metallized BOPET multi structures. 

Mono Structures for Lidding Applications
We offer a wide range of lidding alternatives for fresh fruit, vegetable and ready meal packages that are served in trays. There are different solutions for different applications such as high barrier, chlorine free and recycled content alternatives 
Lidding Applications BT 7011 R2C
Our BT 7011 R2C film is especially developed to reduce our carbon footprint and greenhouse gas emissions an it is produced with 50% post recycled content raw material. The PCR content of the film is provided by the chemical de-polymerisation process. It has an anti-fogging feature on the peelable surface in fresh fruit and vegetable packages where high visibility is required in cold environments. It can seal to RPET trays, APET trays and 3-layer APET-RPET-APET trays 
You can find related films here: